GET YOUR TEXAS REAL ESTATE INVESTING STARTER KIT
Discover How to Become a Multi-millionaire by Learning From
Texans Teaching Texans How to Invest in Texas,
Using Strategies That Work Here.
As part of your Texas Real Estate Investing Starter Kit, you'll get:
YES, SIGN ME UP FOR
THE STARTER KIT!
1. Live Workshop: 2 Tickets to: Texas Real Estate Investing Workshop
The # 1 Training Workshop in Texas. Teaching Texans how to Invest in Texas!
2. Online Training: 90-Minute Texas RE Investing Training Video
The Top-12 Advanced Real Estate Investing Strategies for TODAY'S TEXAS Market
3. Personalized Real Estate Investing Business Plan
A customized – to you – computer generated blueprint for achieving your personal investing goals
4. Texas Real Estate Investing Money Resource Guide
Where and how to get access to funds for all of your real estate deals here in Texas
5. Access to Texas REIAs Wholesale Deal Network
Online private network where 1000's of investors post off-market wholesale deals, and more!!!
This is all FREE to you for a limited time, don't miss out!
YES, SIGN ME UP FOR
THE STARTER KIT!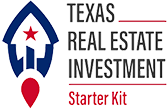 The largest network of Real Estate
Investor Associations (REIAs) and investors in Texas.
Terms & Conditions and Privacy Policy